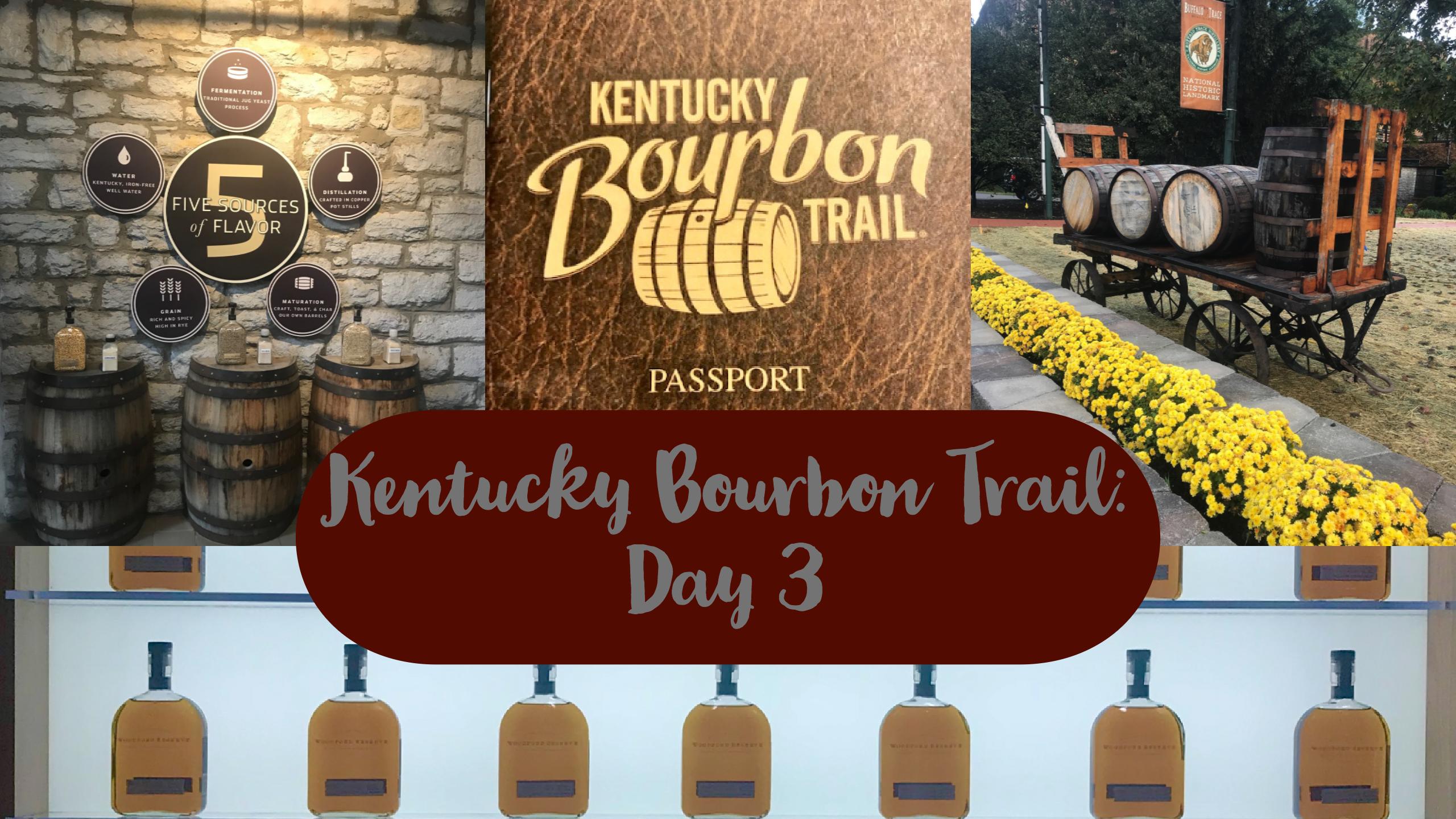 3 Days on the Kentucky Bourbon Trail: Day 3
12 Flares
Twitter
0
Facebook
0
Pin It Share
11
Google+
0
Email
--
StumbleUpon
1
12 Flares
×
If you missed our earlier blog posts, be sure to read about Planning and Day 0, Day 1 and Day 2.
The first stop on day 3, Buffalo Trace, isn't actually on the Bourbon Trail. However, as everyone I asked for recommendations on where to visit had told me to go there, we included it. They used to be part of the Bourbon Trail but withdrew. If you are interested in the reason you can read about it here.
Buffalo Trace is another historic landmark type distillery. It operated throughout prohibition on the strength of its medicinal license. Many of the rickhouses are brick, as they were built before the ugly metal exteriors became popular.
There are several different tour options that you can opt for. I chose their free one which gave us a fairly comprehensive overview of the business of making bourbon, except it didn't take you into a proper operating environment. They also don't have one of those fancy models available at other places to help you visualize the process. So if you are only doing one tour or visit, this may not be the best one unless you take one of their other tours.
If you are in the Lexington area and want a full experience, Woodford may be the better option. The other negative, which actually applied to Woodford too, was that the guide was too verbose. That could be a function of my being "bourbon toured out". Doing ten tours in three days is only tolerable if you want to write a comprehensive blog post on the tour! I told my wife that at this stage I could probably lead the tours.
The Buffalo Trace bourbons are worth tasting. Made with rye as one of the ingredients, they have a slightly spicy taste, mellowed by the long aging process of 8-9 years and bottled in small batches. The downside of the tasting is that they only let you taste 2 of their products (3 if you include the Bourbon Cream)
The tasting covered their flagship product Buffalo Trace and Eagle Rare 10 year old single barrel. You can also taste, in the place of these two products, their unique vodka offering or their White Dog product. That's right, you only get to taste 2 of their products plus their Bourbon Cream dessert wine thrown in at the end.
Both these bourbons are excellent. The Eagle Rare actually felt a little smoother, despite being a single barrel.
Information
Cost: Free for all tours. Reservations required for the Hard Hat and National Historic Landmark Tour
Hours: Mon-Sat: 9 am – 4 pm, Sun: 12 pm – 3 pm
Length of tour: One hour
Parking: on site
As mentioned above, if you want a comprehensive tour of a distillery process in the Lexington area, this is the distillery to visit. The tour is detailed (maybe too detailed) and the environment is very beautiful, situated among horse farms.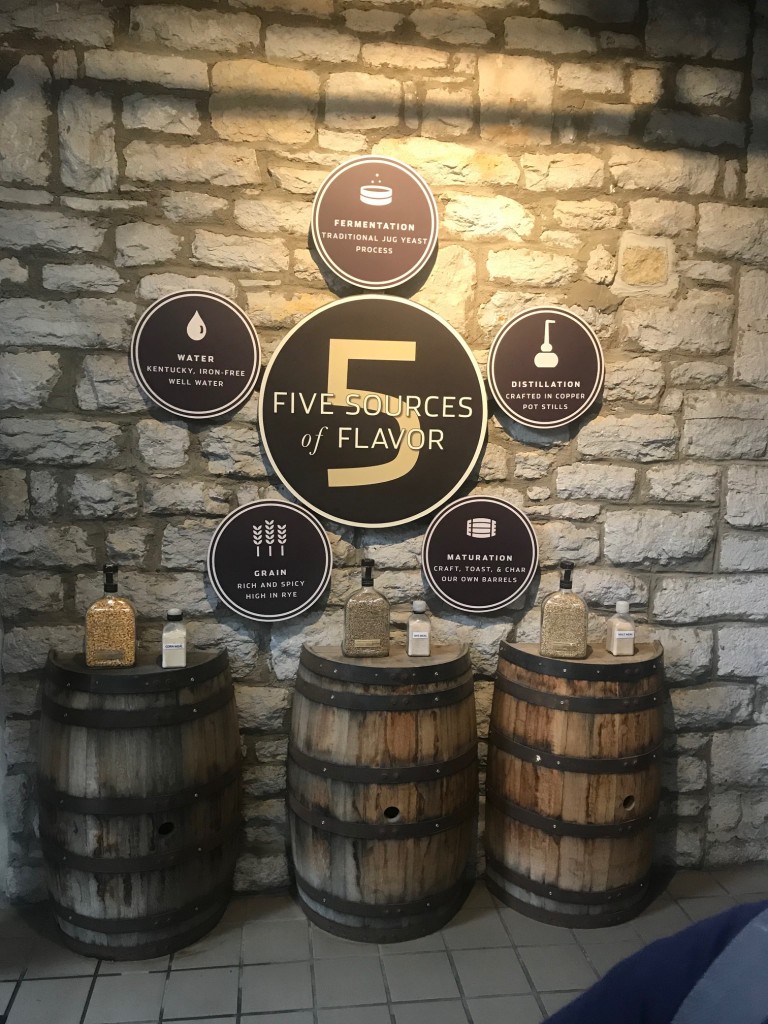 The signature product is well known and found in most bars and liquor stores across America. Heavy in corn (72%) but with enough rye (18%) to provide some spicy flavor, Woodford Reserve is a very popular bourbon.
We would suggest timing your tour around the lunch period because they have a simple, but functional cafe on the premises that serves a reasonable and inexpensive lunch.
Information
Cost: $14 (they also have specialty tours which are more expensive)
Hours: Mon – Sat 10 AM – 3 PM, Sunday 1 PM – 3 PM, Closed Sundays (January – February Only)
Length of tour: One hour
Parking: on site
This distillery is unique on the trail. It really is a boutique operation, a micro-distiller if you will. Right in the center of Lexington, it is convenient if you are visiting there. It also makes beer, so you could learn about that process if you desire.
The tour was probably the least informative of them all. It was the last tour I did and was fairly much "Distilling 101". I actually was happy about that because by this stage I probably could give the tours.
Their products are also fairly basic but, in a way, interesting. They have one bourbon, one whiskey and one rye whiskey, if you exclude their non-whiskey products.
Their Pearse Lyons Reserve malt whiskey is an extremely pleasant and mild whiskey that would make a great entre point into the category. Then there is there strong and bold Town Branch Rye whiskey. Not for the faint-hearted this is great whiskey, but be prepared to receive the strong taste statement it makes. Lastly, the Town Branch Bourbon. Worth at least one purchase, even if it's to get a hold of the gorgeous bottle. A good, if not outstanding bourbon, it is aged for a relatively short 5 or so years.
Unless you have no choice and you want to see a distillery, I would not necessarily choose Town Branch as a stop.
Information
Cost: Taste of the Town Tour is $8 (they also have a variety of longer tours including ones of their brewery)
Hours: Monday– Saturday: 9:30 a.m. – 5:30p.m, Sunday 11:30 a.m. – 5 p.m, Closed Tuesdays (January – February Only)
Length of tour: 30-35 minutes
Parking: there is lot behind the distillery you can park in
The End of the Trail!
We had visited all 10 stops on the Kentucky Bourbon Trail, so all that was left was to visit the Lexington Touris Information Center about 5 minutes drive away to get the tshirt. You can also mail your completed passport in and they will send the tshirt but as it was hardly out of our way we decided to stop by.


It was a fun trip!
For our overall recommendations looking back over our trip, read 6 things to know before you do the Kentucky Bourbon Trail.
The following two tabs change content below.
Meryl loves to travel whenever she has the chance. When she isn't traveling she is likely to be teaching or coaching middle and high schoolers. Of course, one of the subjects she teaches is Geography!
Latest posts by Meryl van der Merwe (see all)
Related
Meryl van der Merwe
Meryl loves to travel whenever she has the chance. When she isn't traveling she is likely to be teaching or coaching middle and high schoolers. Of course, one of the subjects she teaches is Geography!